Our values
VINCI Energies carries in its genes the human values of solidarity, trust, entrepreneurship, responsibility and empowerment.
The respect of these values ensures the continued existence of VINCI Energies beyond purely economic considerations. Resolutely embodied by the men and women of the business units of VINCI Energies, they nurture the service culture and management model. They are also the inspiration behind the VINCI Energies' corporate social and environmental responsibility policy.
To join VINCI Energies is to contribute to its achievements which improve everyday life by preparing for the future. To work with us is to share our values.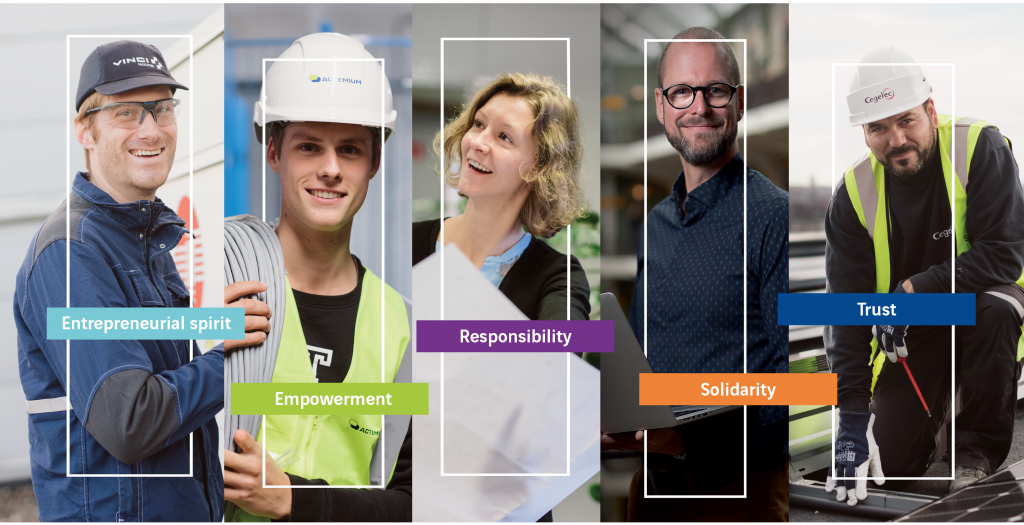 Empowerment

We allow talent to express itself by giving each individual employee and business unit the freedom to take initiatives. The business units define their own development strategies and are empowered to implement them in compliance with the VINCI Energies culture. This empowerment bolsters their ability to act quickly and creatively and in direct contact with the customers. This is the strong point of VINCI Energies.

"After gaining the necessary knowledge, I managed people and was able to start preparing an high-voltage post. The first few weeks were a major challenge as I had to place orders myself, make plans, write safety procedures and follow up the work from A to Z." – Koen, Contract Manager
Responsibility

Our success depends on the accountability of our employees at every level of the organisation, irrespective of their position. All employees are accountable to their colleagues for their projects, their customers, and their business unit.

"I'm responsible for following up various projects, preparing quotes and ordering materials for implementation. Every day I come across new things for which we as a team look for solutions. Here it is important to look for opportunities to improve things." – Hannes, Project Manager
Entrepreurial spirit

We recognise the ability of each individual to take initiatives, evaluate risks, envision success and attain it. This spirit enables us to innovate in our projects.

"Each project is different. You often have to find creative solutions, without losing the focus on safety. You are supposed to respect the deadlines. So you always try to find the most efficient way of working." – Dimitri, High Voltage Worker
Trust

We choose to work in a spirit of trust. Trust is something that is given, deserved, rewarded, and allows people to work together in the knowledge that they can count on one another.

"At the start of my career and after a short training period, I was already involved in cost calculations for new projects. This way I was introduced to the high voltage business. Over a period of time, I started to follow up existing and new projects." – Wouter, Senior Project Manager
Solidarity

More than just a principle, solidarity is a reality which is expressed by the network: knowledge, activities, and resources are shared within VINCI Energies to enhance efficiency and the capacity to act quickly.

"In an ever-changing work environment, I tend to convince everyone to show respect for  the different cultural backgrounds of our colleagues. This promotes togetherness  and in any case leads to better results." – Els, Business Unit Controller
Solidarity is also expressed by the implication of the employees in civil society. They can contribute through the Fonds VINCI  alongside stakeholder organisations involved in insertion through economic activity.